(Fifth Bishop of Ndola Diocese)
Born on 15th November, 1963 in Mufulira town of Ndola Diocese
Ordained priest on 7th August, 1994.
Ordained bishop of Solwezi diocese on 29th July, 2007 by Archbishop Nicola Girasoli.
Appointed Coadjutor Bishop of Ndola Diocese on 13th November, 2009
Succeeded Bishop Noel O'Reagan on 16th January,2010.
Bishop Alick Banda completed his primary and secondary education in his hometown, Mufulira and at the Junior Seminary in Ndola respectively.
He followed his priestly studies at Mpima Major Seminary in Kabwe and St. Dominic's Major Seminary in Lusaka, where he was awarded the Diploma in Philosophy and later one a Bachelor in Theology.
He holds a Doctorate in Canon Law from the Hochschule of St. George, Frankfurt, Germany.
---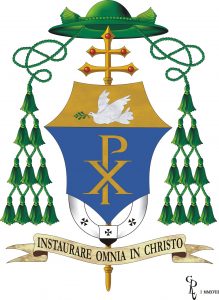 Meaning of the Emblem and Motto
Instaurare Omnia in Christo
"Restoring all things in Christ"
(Col. 1:20)
My emblem is predominantly in three colours i.e. white, gold and blue.  White symbolizes the divinity of God.  This is imbued in a dove. Gold symbolizes new life-resurrection.  I am called to die to self, my own inadequacies and my own sins in order to rise to new life in Jesus.  It is this new life in Jesus that enables me to share with others what I have been graced with by the Lord. Blue symbolizes the open sky vis-a-vis the universe.  My episcopate is understood as a universal mission – to serve God and neighbour wherever I am sent.
The Shield in the emblem symbolizes a fighting people that fought their way from the south of the Continent through to the eastern part of Zambia.  This explains my zeal for the Lord and the work entrusted to me.  The fighting spirit for survival has been replaced by a fighting spirit for the Lord, that all may be restored in Christ.  The golden Cross behind the shield brings home the immanence of death and the resurrection in the Episcopate.  The white Dove above is a sign of the presence of God, His divinity and His Spirit at work.  At the bottom is a Pax symbol in loving memory of the late Bishop Dennis, who carried it on his Episcopal Ring.
My motto, Instaurare Omnia in Christ, "Restoring all things in Christ", (Col.1:20) is chosen from this backdrop that all may be restored to the dignity of Christ, firstly used by Pope Pius X our great forefather in the works of restoration of all things in Christ.  And secondly used by Bishop Francis Mazzieri, OFM Conv. And lastly by Bishop Dennis de Jong of happy memories
---