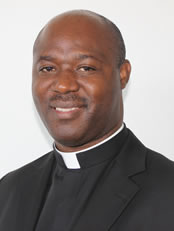 Rector- St. Benedict Seminary
Ordained Priest for the Catholic diocese of Ndola at Uganda Martyrs Parish in Luanshya on 13th January 2007.
I was born in the town of Mufulira from Mameritus Kabwe Mutale and Norah Kaoma on 13th November in 1975, baptized and Confirmed at Bernard's Parish in Mufulira.
I come from the family of nine with four brothers and four sisters, started School at Pamodzi Primary School and did my Junior and Senior Education at Kantanshi Secondary School in the Mufulira town.
I entered Seminary at Emmaus Spirituality Centre in 1996 and proceeded to St. Augustine Major Seminary in Kabwe. Upon successful completion of Philosophical and Religious Studies with an award of a Diploma, I proceed to St. Dominic's Major Seminary in Lusaka for a degree program in Theology and completed in 2004.
In 2005 I enrolled at Technical and Vocation Teacher Training College in Luanshya and successfully awarded a diploma in Secondary School Teaching in Commercial Subjects. Other courses done are Paralegal training and Leadership and Management training.
Experience in various offices of the diocese: Parish priest, Youth Chaplaincy, Pontifical Mission Societies Directorate, Diocesan projects Secretary as well as Pastoral directorate.