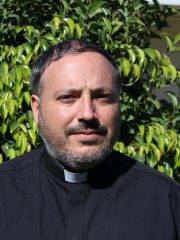 Born in Vipiteno -in Northern Italy, on 23rd November 1976. He grew up in Reggio – Calabria, Italy, where he completed his primary, middle and secondary education.
He later studied Political Science at the University of Messina, Italy, from 1994 to 1999 – with a period as an exchange student at the Victoria University of Manchester, United Kingdom, in 1996-1997 – until he got a Laurea (Master Degree equivalent) in Political Sciences, with specialization in International Politics.
He felt the vocation to missionary priesthood and started attending the vocational meetings of the Neocatechumenal Way.
He also started attending some Philosophy courses at the S. Tommaso Theological Institute of Messina, Italy, affiliated to the Pontifical Salesian University of Rome.
In September 1999, at the international meeting of the seminarians of the Neocatechumenal Way in Porto San Giorgio, Italy, he was assigned to Redemptoris Mater Diocesan Missionary Seminary of Kitwe, Zambia.
He was ordained deacon on 4th November 2007, in Reggio Calabria.
He was ordained priest in Ndola by Bishop Noel O'Regan on 26th June 2008. He was assigned to St. Maximilian Kolbe Parish (Kawama) in Ndola, and worked there as an assistant priest and he is now the Parish Priest here.