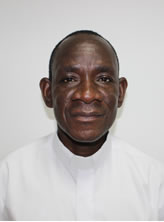 He was born on the 01st June 1965 in Kitwe. He did my primary school at Mitanto and Mutende primary schools in Kwacha, Kitwe. He went to Kitwe boys Secondary school and completed his secondary school education in 1986. He was among the first to go through the Emmaus Spiritual year though it was done at Mpima because Emmaus structure had not been completed. He did his Philosophical studies and introduction to theology at Mpima Major Seminary. He Went to St. St. Dominic's Seminary for theology.
He was Ordained a Deacon on 29th April, 1995 and later ordained a priest on 7th October 1995 in the Cathedral of the Christ the King. He was appointed a Parish priest for Sts. Peter and Paul in Chingola and served as a Deanery Youth Chaplain for Chingola and Chililabombwe. In 1996 he was appointed a confidential Secretary to Bishop Dennis De Jong, a Chaplain for Chiwala Secondary school and a team priest for St. Elizabeth, Nkwazi parish until 1998 when he left for studies in Social and Cultural Anthropology at Leuven University in Belgium and got an Advanced Master Degree. He later did his Teaching Methodology at TVTC in Luanshya.
In 2001 he went to Mpima Major Seminary to teach Anthropology and Religious Anthropology for Africa at the same time he served as a Dean of Studies for 5 years. He came back to the Diocese appointed as parish priest for Mindolo and part time teacher at Fracisdale Seminary and Kitwe Seminary for Diocesan Missionaries. From Mindolo he was appointed a Diocesan Caritas Director and parish Priest for St. Peter Mushili parish. He was then appointed a parish priest for St. Michael's parish, Kalulushi and a Dean for Kitwe, Kalulushi, Chambishi and Lufwanyama Deanery. Later appointed a parish priest for St. Joseph, Buchi parish and later Chimwemwe, St. John parish. Fr. Mutale has written two books, one with a title "Zambian Democracy Betrayed: Patrimonial Corruption in Zambia" and another one, "Icuma Ca Calo: Ififunda ba shikofu wa mu Zambia pa Bunonshi bwa Calo". On 1st of January 2017, he was appointed the Vicar General of the Catholic Diocese of Ndola until now.
Quotes
" HUMILITY IS POWER".