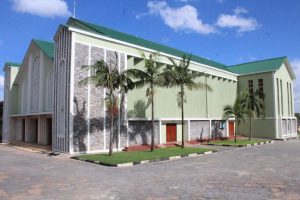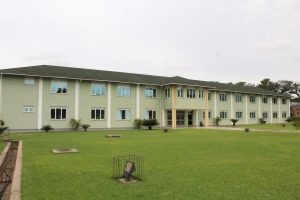 BRIEF HISTORY THE CATHOLIC DIOCESE OF NDOLA.
The first Missionaries who came in the developing mining area settled in Ndola, (part of what was called Northern Rhodesia) today Zambia. These Conventual Franciscan Friars arrived from Italy at Bwana Mkubwa Railway Station on 08th April, 1931. The team leader was Friar Francis Constantine Mazzieri. The others were, Friar Bonaventure Rocchi, Friar Giovani Evandri, Friar Luciano Lelli, Friar Angelo Truccia, Friar Alberto Ferrari and Friar Antonio Toffoni.
The first Bishop of Ndola was Rt. Rev. Francis Mazzieri. Ofm. Conv. His motto was "Instaurare Omnia in Christo", (Restoring All Things in Christ), from 1938 to 1966. The second Bishop was Rt. Rev. Nicolas Agnozzi. Ofm.Conv. His motto was "Ut omnes umum sint", (That all may be one), from 1966 to 1975. The third Bishop was Rt. Rev. Denis Harold De Jong. His motto was like of the first Bishop, "Instaurare Omnia in Christo", (Restoring All Things in Christ), from 1975 to 2003. The fourth Bishop was transferred from Solwezi Diocese, Rt. Rev. Charles Noel O'regan. Sma. His motto was "Evangelizare pauperibus misit me", (He sent me to evangelize the poor), from 2004 to 2010. The fifth Bishop, came also from Solwezi Diocese, Rt. Rev. Dr. Alick Banda. His motto was like that of first and third, "Instaurare Omnia in Christo", (Restoring All Things in Christ), appointed Coadjutor Bishop on 13th November, 2009 and installed on 13th February, 2010. The Sixth Bishop and current Bishop- Rt. Rev. Dr. Benjamin Phiri, JCD, DPIE, comes from Chipata Diocese where he was serving as Vicar General and Auxiliary Bishop. HIs motto is " that we may be one through the cross".
The Catholic Diocese of Ndola was erected on 8th January, 1938 as a Prefecture Apostolic from Broken Hill Vicariate and was elevated to a Vicariate Apostolic on 13th January, 1949. It was later established as a Diocese on 25th April, 1959. The Diocese covers the whole Copperbelt Province with an area of 32,000km with a population about 2,000,000 in nine Districts namely; Ndola, Kitwe, Masaiti, Luanshya, Mufulira, Chingola, Kalulushi, Chililabombwe, Mpongwe and Lufwanyama.
The Diocese is divided in ten Vicariates namely; Bwana Mkubwa, Ndola, Luanshya, Kamfinsa, Nkana, Kitwe, Kalulushi, Mufulira, Chingola and Chililabombwe. It consists of an estimated 909,470 Catholics spread in 86 parishes. It's  under the Patroness of Mary  Immaculate Conception, this Solemnity is celebrated on 08th December.
MISSION STATEMENT
We, The Catholic Diocese of Ndola are committed to deeper evangelization through Catechesis, Liturgy and Witness of life in the spirit of servant hood, faith, hope and love for the salvation of all.
VISION
To be Passionate in restoring all things in Christ, and a self-sustaining Church anchored on the word of God where all will find a home.
CORE VALUES
Prayer
We, the Catholic Diocese of Ndola acknowledge that God is our primary goal and so our life is centred on Him. Therefore, we shall dedicate all our activities (works and deeds) to God in Faith, Hope and love.
– We shall begin and end all our activities with Prayer
– We shall have Daily Masses and devotions in all Parishes
– All Members of Catholic Institutions will participate in all spiritual exercises
– We shall manifest attitude of truthfulness, forgiveness and reconciliation with self, others and God
Charity
– We shall re-establish and improve on social programmes
– We shall create a solidarity social Charity fund in order to facilitate charity work
– We shall educate the faithful on the importance of corporal works of Mercy
– We shall improve Charity works at all Parishes by involving the laity and networking with existing lay groups and the diocesan Social Programme.
Unity
– We shall endeavour to promote team work, co-existence among various groups, charisms, specialization and talents by organizing communal events such as sports, open forum; social gathering exchange visits promoting interest groups that are all inclusive.
– We shall foster among the clergy, religious, families, Small Christian Communities and Parishes unity and diversity to enhance deeper evangelization.
Stewardship
– We shall be responsible and accountable to God and to one another, and uphold the dignity of creation in our undertakings with the utmost integrity, commitment and transparency.
– We shall witness to ourselves and to the whole world by offering selfless service to one another, being committed to our calling and responsibility.
– We shall treat each other equally and ensure that the good things and resources that we have are shared and used universally
– We shall proclaim, catechize celebrate and live the Word of God
– We shall advocate, respect and uphold Human Dignity, care for all temporal and spiritual goods, nurture, motivate, respect and treat everyone fairly.
Integrity
– We shall endeavor to promote honest, transparency and accountability as we carry out our responsibilities
– We shall exhibit high levels of transparency, responsibility and accountability, and ownership in prudent management and utilization of finances and asserts through strict adherence to financial procedures.