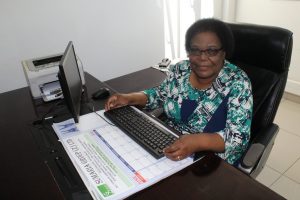 EDUCATION   SECRETARY:
  MRS SCHOLASTICA SAIDI  
PREAMBLE:
Education is a right of every citizen, regardless of their Religion, Colour, Creed, Political affiliation and the right age. The Catholic Diocese of Ndola, has taken a stance of providing education and skills training which is holistic, by ensuring that quality academic education, and skills training are ingredients of self sustainability in the life of an individual and the community is maintained.
The Catholic Diocese of Ndola will therefore continue to provide quality education and skills training in line with the teaching of Christ and the Social Teaching of the Church and ensure they are realized, when the communities are empowered with knowledge and various skills for self sustainance, such knowledge will at the same time, be the vehicle for evangelization. This approach to education will fulfil the vision of Catholic Diocese of Ndola "Restoring Everything in Christ" and will also embrace the Core Values of Prayer, Stewardship and Team Spirit in all the Catholic Educational Institutions, as emphasized in the Diocese's Mission Statement that "all may have life in its fullness."              
Background to Education Department
The Education Department of Catholic Diocese of Ndola, co ordinated by the Education Secretary, was created in 2010 by His Lordship the Bishop, to overseer the management of education in the 74 Catholic Educational Institutions, managed by different Managing Agencies comprising of 1 University 7 Skills Training Centres, 12 Secondary Schools, 3 Special Schools, 6 Primary schools, 24 Community Schools, and 21 Pre/Nursery Schools, to act as a link between the Diocese and Catholic  schools and also as a link between Ministry of General Education and the Diocese through the District Education Board Secretaries in the province. The department is also a link between the Diocese and the Catholic Secretariate National Education office. The Education department also, works hand in hand with The Commission of Catholic Professionals in Education (C.C.P.E.), a body appointed by The Bishop to ensure Catholic Ethos prevail in all Catholic Educational Institutions in line with the Mission Statement, Vision and Core Values of the Diocese. The Education Secretary is mandated to attend Board/PTA meetings conducted in Catholic learning institutions and participate in any activities the Diocese may deem necessary.