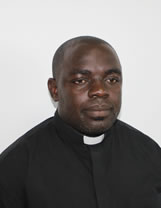 Was Born 4th August 1979.
He did his Primary /Junior Education 1987-1996 at Mukanga Basic School in Mporokoso.
Senior Education from 1997-1999 at Mporokoso High School.
Did a programme in Security Management and Control under the Chishango Security Services in 2001.
Worked as Supervisor and Chief Inspector in charge of the Ndola Branch under the Chishango Security Services – 2002- 2003
Did a Zambia Teacher Education course at Kitwe College of Education – 2004 – 2005
Worked as a class teacher at Mo School and a visiting Teacher at EVATEC International School in Chingola 2006 – 2007.
Also taught at Chimoto Basic School in Lufwanyama (as a student) – 2005
Under went Diocesan Formation Programme for priesthood – 2007-2015
Obtained a Diploma in Philosophy and Religious Studies in Mpima, 2008-2009
Studied and obtained a Diploma in Theology from St. Dominic's and a Bachelor of Arts Degree in Theology from the Urbaniana Pontifical University of Rome, 2010-2015.
Ordained Deacon on 8th December 2015 and as a priest on 4th August 2016.
CURRENT STATUS
Priest of St. Mbaaga Parish in Kawama – Kitwe.
Acting Catechetical Manager – Catholic Diocese of Ndola.