Basic Bible Course Second Graduation Ceremony
Mount Olivet Biblical Centre, Mufulira, 17th March 2018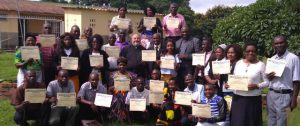 On 17th March 2018 the graduation of the second group who completed the three units of the Basic Bible Course (Extra-Biblical Introductions, Old Testament, New Testament) took place at Mount Olivet Biblical Centre in Mufulira. A total of 27 people (24 of them present, three unable to attend) from eight deaneries sat successfully for the final exam of the course in the afternoon and evening of Friday, 16th of March. Among them there are four youths (one of them recently married and one studying at Zambia Catholic University).
In the morning of Saturday, 17th March, the ceremony of graduation took place, graced by Fr. Matthews Mumba, OFM Conv, Director of Pastoral Programs, Fr. Giuseppe Saieva, Manager Biblical, and Sr. Catherine Kabwe, Sister in Charge of Mount Olivet. Mrs. Lennie Phiri and Mr. Alexander Chibingo Bwalya, Diocesan Biblical Commission Chairperson and Secretary respectively, were also present.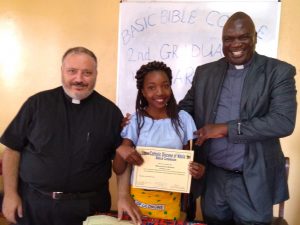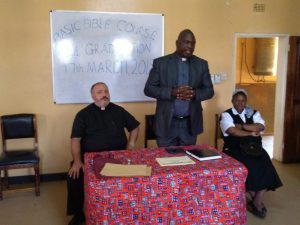 The members of the Diocesan CMO Executive had been invited, as this program was sponsored by the CMO Pastoral Fund, but were unable to attend, due to the concomitance with their meeting held in Chingola.
It was really a momentous occasion, full of joy and satisfaction. After the graduation, the new Biblical facilitators were briefed on how to work in coordination with the already existing zones to organize the trickling down of the first unit of the Basic Bible Course in the deaneries. The day was concluded with the celebration of Holy Mass, animated by the youth.
We are now waiting for the names of those who will start the new group of Basic Bible Course with the First Unit, which will be held from 7th to 11th May 2018 at Mount Olivet Biblical Centre in Mufulira. Letters have been sent to all deaneries (also through the very facilitators who graduated) to select four members each (two adults and two youths) to attend.