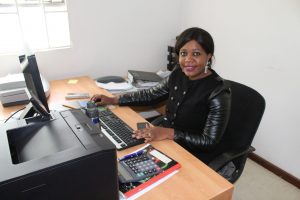 The Department was created on 1st January 2016 and has two M&E officers so far.The Main purpose for the creation of the department was to provide accurate and timely information and guidance through rigorous monitoring and evaluation of all programs/projects to meet the Diocese's responsibilities and goals
The M&E Department aims to provide continuous feedback on implementation, successes and potential challenges as early as possible to facilitate timely adjustments to project and programme operation. More specifically, M&E:
Ensure timely, accurate and relevant data from Projects/programs is collected from both routine and non-routine sources, using quantitative and qualitative methods.
Guide the review and implementation of performance M&E plans for all projects and programs
Establish and provide a link to Projects/programs M&E frameworks
Establish standardized measurements
Support documentation of an evidence base among all CDoN Projects
Assists in knowledge sharing of M&E results, lessons and experiences in the Diocese.
Annual work plans translated into quarterly, monthly and weekly work plans.
Regular management meetings at various levels of the organization.
Quarterly, mid-term and annual reviews.
Regular Internal and External Audits.
It is envisaged that information sharing, feedback and interaction with each program not only will enhance Program' M&E capacity but also will improve program efficiency. Similarly, disseminating M&E findings will foster increased understanding among staff members on the usefulness of M&E, and reduce redundancy that might occur if others are not aware of the findings of previous M&E efforts
Catholic Diocese of Ndola attaches a high priority to M&E and believes that the ability to demonstrate program Effectiveness is essential. For this reason, M&E structures, emphasizing results based indicators, also have been closely integrated into the design of all Programs/projects. Similarly, by developing a common framework for reporting, we hope to tell the story of each program/ project, identify best practice and promote collaboration and networking between programs and other stakeholders. M&E forms the basis of all programs/projects and will be reviewed as necessary to reflect programs programmatic shifts. Additionally, CDoN will explore key Operations Research [OR] questions to complement its monitoring efforts.